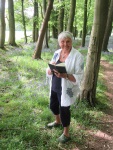 After a number of years in teaching Sally took a honours degree in Fine Art.
Sally is an artist who divides her time between the Chiltern village of Aldbury, and the West Country and sea coasts of Cornwall. Her art work celebrates the joy and exuberance of untamed nature, whether the landscape or the sea.
Sally works mainly in acrylics and mixed media trying to create atmospheric and unique pieces. Her ideas and inspiration are collected in a small sketch book and on camera, both of which she always has with her.