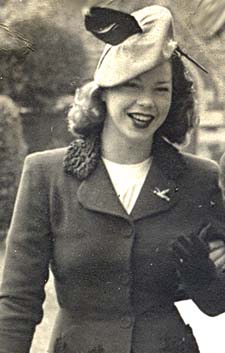 Joan Gillchrest 1918 - 2008
The Times obituary, 2 Feb 2008
The Independent Obituary
Joan Gillchrest:


Cornish na´ve artist
Tuesday, 22 January 2008
Joan Linda Scott, painter: born London 2 November 1918; married 1942 Samuel Gillchrest (one son, one daughter; marriage dissolved 1953); died Mousehole, Cornwall 3 January 2008
The vibrant, colourful and poetic paintings of Joan Gillchrest belonged to the ongoing Cornish tradition of na´ve, primitive or outsider art, a tradition so endemic to art in the county that even an urban sophisticate like Ben Nicholson succumbed in part to its charms. Although Cornwall was positioned on the edge geographically, it was closely linked culturally and socially to the metropolitan hub by a large, well-connected artistic community.
London-born and trained, Gillchrest moved to the Cornish fishing village of Mousehole, near Land's End, in 1958. During the next half-century she fine-tuned her depictions of Mousehole harbour, of views across Mount's Bay to the iconic St Michael's Mount, of tin-mines and coves, to create a distinctive style that brought her critical acclaim and commercial success.
She was born Joan Scott in London in 1918, the daughter of Sebastian Gilbert Scott, a pioneer of radiology, and studied at Grosvenor School of Art during the mid-1930s, where she was taught by Iain McNab, whom she described as a marvellous teacher. Aged 21 when the Second World War broke out, Scott worked as a volunteer ambulance driver for Westminster Hospital during the early 1940s.
She married Samuel Gillchrest, a barrister, in 1942 and her promising painting career stalled as a result of first wartime and then marital responsibilities that included the raising of a son and daughter. After the breakdown of her marriage in 1953, Gillchrest moved to a studio in Chelsea where her painting career resumed.
A catalyst in this was Adrian Ryan, the Slade-trained Francophile painter who had lived in Mousehole with his first wife after the war. He had contributed to the final 1948 Crypt Group exhibition in the basement of the St Ives Society of Artists, a revolutionary event that saw Ryan, along with Peter Lanyon, Patrick Heron, Sven Berlin, W. Barns-Graham and David Haughton, shake up the establishment in St Ives with a challenging dose of modernist art.
Through Ryan, Gillchrest moved to Mousehole and entered a charmed circle of painters and itinerant creative people; Augustus John, whose Tite Street studio was near Ryan's in Chelsea, maintained close connections with the fishing village. Before acquiring her own home, Joan Gillchrest lived with Betty John (wife of Augustus John's son Edwin) in Mousehole.
Painters like William Scott or the native Jack Pender had created enduring images of Mousehole; the same distinctive features of the twin piers, the enclosed harbour with varied fishing vessels and the steep, tiered housing behind the harbour-front entered Gillchrest's mature paintings. These were painted with flat, delineated areas of vivid colour which bore the patterned effects of incoming tides, breaking waves, peopled quaysides and beaches, or posses of sailing boats entering and leaving the sanctuary of port.
Although Gillchrest and Ryan lived together during the mid-1960s,when the latter commuted between Cornwall and a teaching post at Goldsmiths' College in London, it was not until the 1970s, by then alone and in her favoured state of seclusion, that Gillchrest gathered the confidence to branch out and find her own style, in which cartoonish humour, social narrative and deceptively simple, graphic wit came to the fore.
In this she was encouraged by Jack Wood Palmer, and the director of the Newlyn Orion Gallery, John Halkes, who gave her a first solo exhibition at the Passmore Edwards Gallery in the 1970s. Despite belonging, perhaps inadvertently, to a distinguished line of na´ve expressionists that included Christopher Wood, the Lowry-influenced northern realists Alan Lowndes, Fred Yates, Simeon Stafford and Linda Weir, and the home-grown primitives Alfred Wallis, Bryan Pearce and Mary Jewels, Gillchrest fashioned an individual look. This was a product of graphic poise, elegant and balanced design, expert tonal expression of light, weather and atmosphere, and, above all, consistent and immaculate paint-handling. She became a Cornish Beryl Cook or Helen Bradley, fusing child-like innocence with highly sophisticated sensibility.
Gillchrest's fortunes during her later career rose in line with the growing popularity of the Cornish post-war school presaged by the "St Ives 1939-64" exhibition at the Tate Gallery in London in 1985. Since the 1980s Gillchrest's work has sold readily, both from the Wren Gallery in Oxfordshire and from the auction room, where her prices regularly reached the thousands.
Peter Davies