The Times Obituary
From The Times, 4th February 2008
Joan Gillchrest
Painter whose naive style immortalised Mousehole, Cornwall, and was greatly appreciated by the public, if not by critics.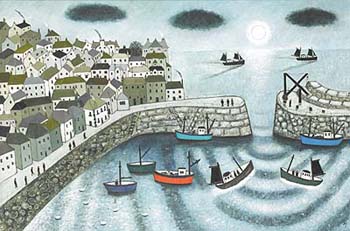 For years, high above the granite and grey rooftops of Mousehole, Cornwall, and surveying its little harbour painted by so many illustrious forebears, Joan Gillchrest enjoyed the best sea views in the town and gamely recycled them in myriad pictures well received by the public — who found them evocative — but disregarded by critics, who felt them wanting in integrity.
Gillchrest's apparently naïve style of painting was without perspective, instantly recognisable and contained little of the actuality of the region. Instead she tended to portray it more as a summer holidaymaker would wish to see it: under reasonably clement skies, surveying a calm sea innocuously decorated with randomly bobbing boats. Her best work — which is desolate in its icy uniformity of palette and which is hard to reconcile with the majority — bespeaks more of the Neptunian dreamer that was nearer to her true personality: hugely sensitive, not at all conventional, non-domestic, and torn between idyllic escapism and an understanding of human frailty at a very visceral level.
Gillchrest was born Joan Gilbert Scott in 1918 into a conventional and well-heeled family with some illustrious members. Her great-grandfather, George, was the architect of St Pancras Station; her uncle was Sir Giles Gilbert Scott, architect of Liverpool Cathedral, of Battersea Power Station and the one at Bankside that is now Tate Modern, and of the iconic, red cast-iron telephone box based on the design taken from the interior of the Dulwich Picture Gallery. Her father was a distinguished diagnostic radiologist who had worked with Marie Curie and who developed the treatment of disease with radiation.
One of four children, three of them girls, she was brought up at Bourne End, near Cookham, Berkshire. She attended boarding school and at 16, through her wilfulness and the indulgence of her father and artistic mother, was allowed to spend a year in Paris to study French. She also cultivated her interest in painting there, and later attended the Grosvenor School of Art under the painter and engraver Iain Macnab of Barachastlain.
Seeking an unconstrained life, she accepted a proposal of marriage during the war from a prosperous American, Samuel Gillchrest, son of one of the proprietors of British-American Tobacco. As a means of escape it was unsatisfactory. He proved to be the first of a trio of partners who would threaten her emotional security and compromise her sublimely romantic dream of long-term fusion.
A daughter was born in 1943, followed by a son four years later, but the couple soon separated. They divorced in 1953 and he died a few years later. Intent on securing for herself an artistic life and indifferent to any disapproval, Gillchrest moved to Chelsea, the relaxed playground of the time.
She rented an impressive artist's studio — it even had a television — on the first floor of 48 Tite Street, living above the charismatic painter Adrian Ryan. He was of similar background to her, moneyed but unconventional, and his being already married to Barbara Pitt proved no lasting obstacle to him eventually moving upstairs with Gillchrest in November 1957.
By this time Gillchrest was finding regular work as an artists' model. She was tall, pretty and somewhat Slav-featured, with her long hair forever in a ponytail and a fringe over the forehead. Her friendly face was always heavily made up while shrouded in smoke from cigarettes she would habitually smoke using a black-and-gold holder. Baggy "Sloppy-Joe" jumpers and rolled-up trousers with espadrilles completed her bohemian attire which, added to her worldly and glamorous past, suited her well.
Adrian Ryan painted Gillchrest plentifully "in the honeymoon period of those early months . . . posing provocatively, semi-nude, and in the bath Bonnard-like". A striking example is Kneeling Woman, 1958, a large canvas with its sexily clad subject resting on her elbows and knees, viewed voluptuously from above, almost like a still life, and owing some influence to Sir Matthew Smith, who was known to them both.
Their relationship lasted for nearly eight years, and although he proposed marriage — when her ex-husband had died and he himself was divorced — she demurred, perhaps anticipating the deterioration in relations that was to come.
In 1959 they set up home in Mousehole, where Ryan had lived with his first wife, the painter Peggy Rose. Old Hill Cottage, which Gillchrest bought, was perched level with the dizzy heights of Raginnis Hill and along the appropriately named Love Lane. They moved in officially in July. By cutting down the weeds and terracing the impossibly sloping garden they opened up the spectacular view from the back.
It was less of a cottage than a modest bungalow, with a full-length conservatory whose sofas and seats were covered in textured materials, tasteful Matisse-like throws that went well together and many potted plants. It was a place in which to spend time contemplating the harbour in all shades of grey and gradations of weather.
The house's attractiveness was attested to by Sir Alan Bowness, visiting with William Scott in 1962 to buy works by Ryan for the Gulbenkian Foundation. A studio was built in the garden which Ryan used to embark on a series of Mousehole Rooftops pictures. Gillchrest's desire to paint was firmly discouraged by Ryan. He saw no virtue in her "gimmicky pastiches done for tourists" — although he conceded that she had done good work in the past, he turned her pictures to the wall when anyone noteworthy called. Relations between them, good and bad, were passionate, and as a Mousehole couple they were looked up to in more ways than one, certainly as judges for the annual carnival and as the originators of the now famous Christmas tradition of illuminating the town with coloured lights.
Gillchrest's recollection of the reason they stayed together was "that he was terribly funny" as well as being "very good in company — at a party with his painting friends, or amongst any crowd — he was marvellous".
What she dreamt of doing was precisely what he was preventing her from — painting. The strain upon the two of them increased, even with Ryan continuing to spend time in London teaching part-time at Goldsmiths. Perhaps more so, as Ryan was more noted for his charm than his fidelity.
For him, unexpectedly, the idyll ended with a letter she wrote, received in his newly rebuilt Camden Town studio in September 1965. Gillchrest, "a strong woman, stronger than he", had sent all his pictures and belongings to Harrods Depository telling him never to come back. It deprived him not only of a home but also of some of his best subject matter.
Gillchrest later admitted it was a devastating thing to have done. Especially as she had secretly acquired a toy-boy replacement in his late twenties — the assistant and then boyfriend of a local Arts Council representative — who did encourage her to paint. This she did lastingly, even though her new paramour soon moved to Australia and committed suicide some few years later.
The dedicated following she amassed through a variety of exhibitions locally and elsewhere was a source of mystery for which she seemed more puzzled than grateful, and which she held at a distance as she became ever more reclusive.
It was small comfort to her in recent years, when she was no longer able to stand in order to paint, to reflect on the greatly inflating prices that her work was fetching in the secondary market. This had not been the motivation for her creating it at all.
Joan Gillchrest, painter, was born on November 2, 1918. She died on January 3, 2008, aged 89