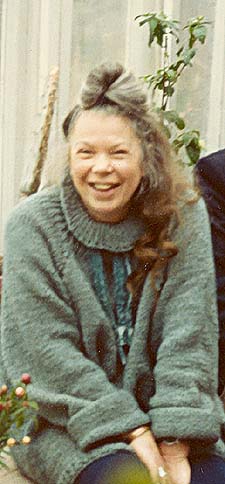 Joan Gillchrest 1918 - 2008
The Times obituary, 2 Feb 2008
Independent obituary, 22 Jan 08
Guardian Obituary
Joan Gillchrest
Naive painter
whose work captured the hardships, and the humour, of Cornish life
About this article: This article was first published on guardian.co.uk at 00.01 GMT on Monday 18 February 2008. It appeared in the Guardian on Monday 18 February 2008 on p32 of the Obituaries section. It was last updated at 00.01 GMT on Monday 18 February 2008.
From the late 1950s onwards the naive artist Joan Gillchrest, who has died aged 89, painted the hard life of Cornwall's rugged Penwith peninsula, with its fisherfolk at sea in all weathers, farmers eking out livings from clifftop smallholdings - and holidaymakers, enjoying glorious beaches, oblivious to the toil of the locals. Today Joan's work sits alongside other great artists of the St Ives School from the 1960s, but, for a few years painting was difficult for her. She faced opposition from her then partner, the artist Adrian Ryan. "It was only when I threw him out," she observed, "I could do what I really wanted."
That was in 1966 and she became absorbed in the lives of the fishermen. She shared their anguish as their great Cornish industry declined. But alongside the hardship, was also happiness and humour and she captured all of it in her work - together with an affectionate eye for detail. Her style had developed alongside her contentment and, encouraged by Newlyn Orion gallery director John Hawkes, she began exhibiting. Her first solo show (1969) was at the Plymouth art gallery and for the next 20 years she exhibited in most of the Cornish galleries. She had solo shows at the Orion, and in Penzance, and at the New Craftsman, St Ives. From 1990 she had annual solo shows with the Wren gallery in Burford, Oxfordshire and at London's Design Centre.
Born in Westminster, Joan was the third of four children. Her father was a pioneering radiologist - and skilful caricaturist - and her Australian mother an accomplished pianist. She was the great-granddaughter of the architect Sir George Gilbert Scott, and Cornish architecture, churches, chapels and cottages featured prominently in her work. "Buildings," she said, "are in my blood."
The family home was at Bourne End in Buckinghamshire. She was, she admitted, a difficult child - her parents hired one nanny for her and one for the other three siblings - and she claimed to have been sent to Upper Chine school on the Isle of Wight to give her family some peace. The apple of her father's eye, he encouraged her to draw and paint.
In 1934 she went to Paris to learn the language and develop her art appreciation. She met Gwen John, and studied in various studios, often posing as a model. Two years later she enrolled at the Grosvenor School of Art, and studied under Iain Macnab. She first exhibited at the Royal Academy when she was 18 and her Two Girls in Lyons Corner House was shown at the New English Art Club in 1937. Her German Scene With Cows hung at the 1938 London Group. With the war in 1939, Joan became a Westminster hospital volunteer ambulance driver, later driving for a mobile rescue unit. She painted little during those years but kept in touch with Macnab. When the area around St Paul's was blitzed, leaving the cathedral relatively unscathed, Macnab got Joan and a few others to paint the scene. Her work, painted with a thick palette knife, hung for many years at the art school.
In 1942 she married a barrister and Coldstream Guards officer Samuel Gillchrest. A daughter and son followed and there was little time to paint. In 1953 the couple divorced.
An elegant woman, Joan supported herself working for fashion houses as a model. And she also began to paint again. It was after moving to a studio in Tite Street, Chelsea, that she met Ryan. He lived below, and was a friend of Augustus John's son Edwin, who had been left his Aunt Gwen's Paris studio. Joan and Adrian often stayed with Edwin and his wife Betty, mixing with many French artists.
Then Betty took herself off to Mousehole. In 1958 Joan and Adrian followed, staying with Betty - and meeting Augustus John. Having sold a sapphire ring from her mother and a sable coat from her mother-in-law, Joan bought a cottage. Adrian moved in and their home often housed her children and his daughters. Then came their break-up.
Joan was a very private person. She could never quite understand the tremendous following which had built up for her painting. The greatest influences on her work were Christopher Wood and Alfred Wallis. She did not suffer fools gladly and admitted to being difficult. But for those fortunate to have known her, she was warm, loving and generous.
One of Joan's other legacies to Mousehole are the village Christmas lights. Joan had put up the first string outside her house in 1963. Now, every year, the village and its harbour are illuminated and the event draws huge crowds.
She is survived by her daughter Mara, and son Paul.
· Joan Linda Gillchrest, artist, born November 2 1918; died January 3 2008